"Creating a positive environment: closing the gaps and setting clear goals for 2024!"
Presented by: Dave Magrogan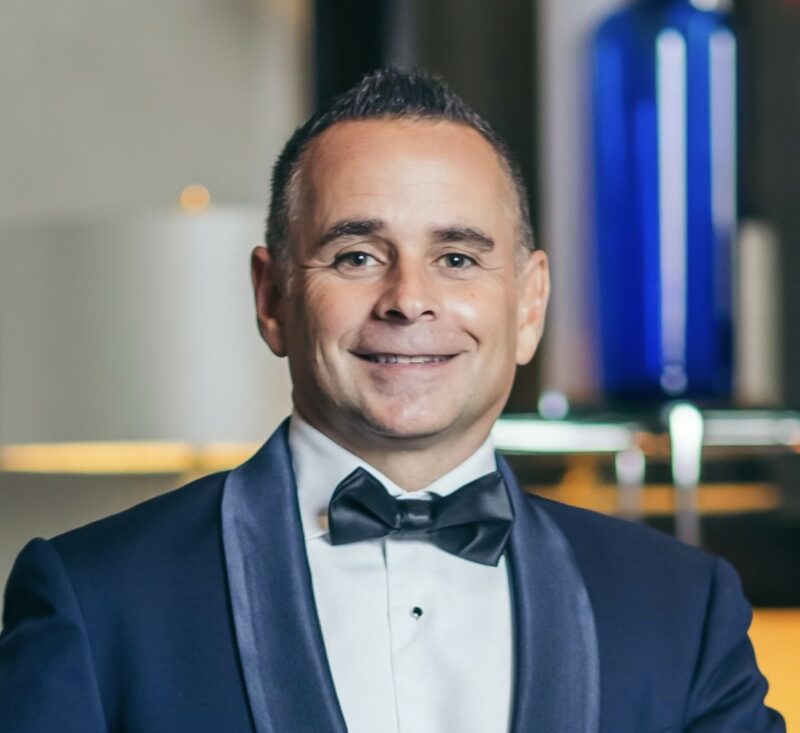 Dave Magrogan is the mastermind behind Dave Magrogan Group (DMG) and Harvest Restaurant Holdings (HRH).  Magrogan is recognized as a leader in the restaurant industry and small business community. An aggressive promoter, savvy publicist, sought after motivational speaker, and author, he offers experience in concept creation, planning, marketing, small business finance, and business development.
Magrogan grew up in Delaware County, Pennsylvania and first realized his passion for the restaurant industry at age 14 while working at the Lobster Pot in Media. While working in the restaurant industry, Magrogan received a Pre-Med degree from West Chester University and a Doctorate in Chiropractic from Life University in Atlanta. He went on to build two of the largest family practices in Pennsylvania and treated over 800 patients a week.
Although his chiropractic business was successful, Magrogan never lost his passion for the restaurant industry.  In 2003, he made a bold decision to sell his chiropractic offices and pursue his dream, founding DMG. Dave has gone on to create authentic gastropub experiences known today as Kildare's Irish Pubs, Doc Magrogan's Oyster House, the fresh & organic Harvest Seasonal Grill and Wine Bars, and Barra Rossa Ristorante for authentic Italian flavor and energy where creative dishes are brought to life with local and fresh ingredients paired with a lively atmosphere. Dave recently opened his newest concept, The Monterey Grill, a prime steak and seafood restaurant in Mt. Laurel, New Jersey.
Magrogan was recognized as Entrepreneur of the Year in 2007 and his company, the Dave Magrogan Group, was one of the Top 100 growing companies of Philadelphia in 2006, 2007, 2010, and 2012. He was also awarded Smart CEO's Future 50 Award, and 2011 Top CEO Award.  In 2017 he was awarded the Leadership in Business award from the National Kidney Foundation.
Dave serves on the Boards of the Brandywine Valley SPCA, Mac's Fund, The Satell Institute, The Chesco Chamber, and The Mill at Anselma Preservation and Education Trust in Chester Springs. To help small businesses in Pennsylvania, he created the Common Sense Coalition PAC in 2021. In 2022, Dave was named Chester County Citizen of the Year in recognition of his work to help the restaurant industry during the pandemic.
His book, "Do It Rhino Style" has become a cult favorite of entrepreneurs and business leaders around the world.  His motivational speaking takes Dave all around the world to share his message of charging at life like a Rhino!
Professional Clothing Drive
Let's empower those returning to the workforce!
The Workforce Readiness Committee is launching our "Springing into the Work Force" campaign by collecting gently used, clean professional clothing and accessories for men and women, that will be donated to organizations supporting underserved members of our communities who are returning to the workforce. As announced during the December breakfast, this clothing drive will run from January 3rd to February 29th. This is an opportunity to purge closet items while helping others. WRC will post more details on the Tri-State site, in the meantime, we look forward to seeing everyone at the February meeting and our committee members will be there to accept any clothing donations you bring to the meeting.
Thank you in advance to all of our professional and generous Tri-State members for taking the time to gather and donate items that will benefit others!
To drop off clothing outside of this meeting, please deliver to:
Arc of Camden County
215 W White Horse Pike,
Berlin, NJ 08009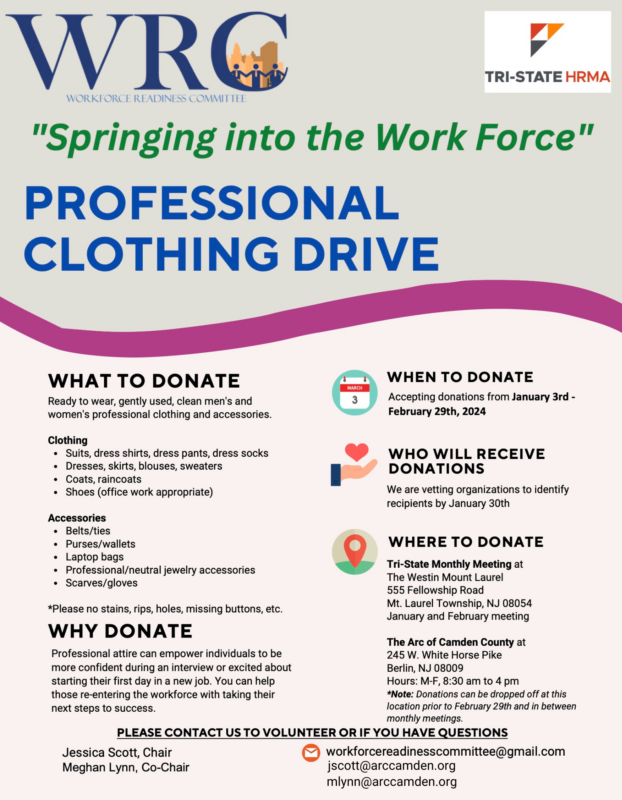 Meeting Location:
The Westin – Mt. Laurel
555 Fellowship Road
Mt. Laurel, NJ 08054
---
Meeting Agenda:
5:30pm: Networking
6:00pm: Dinner begins
6:30pm: Tristate Welcome and Updates
7:00pm: Legislative Update
7:15pm: Speaker Presentation
8:15pm: Wrap-up and More Networking
---
We look forward to seeing you!
Please note that video images and voice recordings may be taken during this meeting and other Tri-State HRMA events for use in the chapter newsletter and on social media. By attending this event, you are consenting to such use. If you object to the use of your image or voice, please contact our administrator, PD Jones and Associates, to discuss your options.
Go Back