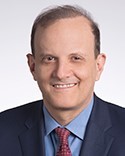 "Addressing Antisemitism at Work"
OPENING KEYNOTE
Jonathan A Segal, Partner of Duane Morris Law Firm
You may have noticed there has been an alarming increase in antisemitism.  Indeed, it has become mainstream in some circles.
Like other forms of bigotry, individuals who harbor this hate don't check it at the workplace door. There is growing evidence that the hate is infecting the workplace, too.
In a recent national survey, 1 in 4 hiring managers admitted to being less likely to hire someone that is, or is believed to be, Jewish. Other findings of the survey are just as troubling.
The discriminatory findings are frightfully close to a landmark study from the ADL seven years ago about the attitudes toward Jews in the US. And, that was before the recent rise in antisemitism.
Also up is harassing conduct directed at or about Jews. Many managers do not fully understand the conspiracy theory that animates some antisemitism. Accordingly, managers may be silent when they see, hear, or otherwise become aware of harassing conduct rooted in conspiracy theories.
As for legal protection of Jewish applicants and employees, it is not limited to discrimination and harassment based on religion. Protection may be based on ethnicity, even race, and perhaps even genetic information.
Antisemitism has become a "complicated" issue for some DEI leaders. We will explore some of the cultural mistakes DEI leaders have made and how they can recalibrate their approach to antisemitism as the evidence of its pervasiveness increases.
This program is a clarion call with practical recommendations for containing the antisemitic virus, at least in the workplace.